Published on: December 20, 2013 @ 1:45 p.m. ET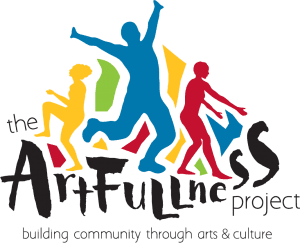 As 2013 comes to a close, I'm launching my passion project, The Artfullness Project, in the new year. The Artfullness Project brings interactive arts programming to the DC-region and beyond that educates, inspires and promotes cross-cultural understanding. We started out providing improv/creativity workshops for arts enthusiasts, busy professionals and workplaces. The majority of artistic programming is facilitated by artists and experts with global perspectives, because the storyteller matters.
As an independent public relations professional, I draw my creativity from the arts—-largely dance, and could often be found in Kwame Shaka Opare's West African dance class throughout 2013. When I needed to brainstorm a new pitching angle, campaign, subject line or new business idea, I couldn't rely on another independent friend/colleague to be available for a quick brainstorm, nor could I call my friends who work traditional 9-5 jobs, because they were in the office! So, I would step away from my office and engage in Kwame's afternoon dance class, which was amazing and freeing! During my 30-minute drive back home, I'd often have that new idea, and was ready to hit the ground running. On weekends, I could be found exploring dance classes throughout the DC-region.
I've spoken with other independent professionals who expressed similar sentiments-—the need to pause from work and engage in some type of physical activity in order to jolt their creativity. People everywhere are working harder—tethered to technology (tablets, smart phones, laptops)—and becoming disconnected to self, others and society in general. So, in March 2013, Kwame and I offered a Saturday dance class, "The Dance of Creativity," for the community. It was met with a positive response, so we did it again in April.
Prior to engaging in dance to spark my creativity in the workplace, I'd often engage in play with my son. When he was younger, it seemed like his daycare was closed every other day—-that's another story—-so, if I had a pressing project that I was working on, I'd have to find a way to manage this and engage my son. The park and jungle gym became our 'boardroom' for brainstorm sessions. And, if I experienced some client win or success that day, I could count on my son to give me a high five.
As an arts lover, I continued to thirst for consuming AND participating in 'less traveled' art forms, so in October 2013, I was thrilled when my friend and PR colleague Janna Zinzi, who is part of the Brown Girls Burlesque Lovelies, agreed to stick around to facilitate a DC Tease workshop for the community. Once again, this event was positively received, and took everyone out of their comfort zones! I am drawn to these experiences, and my greatest joy is witnessing attendees who were initially doubtful about their abilities, turn that hesitation into confidence, improved self-esteem, unbridled creativity and a thirst to explore new art forms.
I'm excited that The Artfullness Project will also be delving into improv workshops for creative workplaces with NY-based actress Nanda Abella.
Improv teaches us to welcome the unknown and to use it to our advantage. Improv also teaches us to be 'present' and to 'live in the moment'—a critical behavior that gives us the flexibility and open-mindedness that is necessary to face the challenges of the modern business environment.
Today, TAP explores the intersection of art and business through creative projects and visual content.
Join the discussion with The Artfullness Project on Facebook and twitter to learn more!
What inspires YOU?