Published on: Apr 19, 2012 @ 4:25 p.m. ET
I'm a HUGE fan of the "10,000-Hour Rule" referenced in Malcolm Gladwell's book, "Outliers," and in the past few weeks, I've come across some great examples. The rule asserts that it takes 10,000 hours of practice or 10 years to become an expert at a craft. In the clip below, Gladwell explains the rule:
The exciting news about this rule is that you don't have to be old to attain expert status! For example, 29-year old fashion designer Jason Wu has already solidified his expert status, and is just getting started!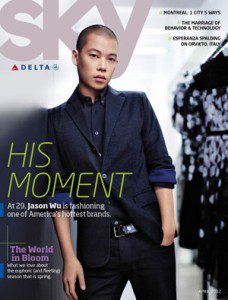 He sketched dresses in the windows of a bridal shop in Taipei when he was just 5.
Please read this article, "Jason Wu, Fashioning a Brand," that appeared in Delta Sky Magazine.
The other two examples from this month were: Kevin Clash–The Man Behind Elmo, and 'Outlier' in-the-making–Caine Monroy.
Are you an 'Outlier' in your industry?  What would you gladly spend 10,000 doing and love every minute?