Published on: July 8, 2014 @ 9:00 p.m. ET (Originally appeared on LinkedIn)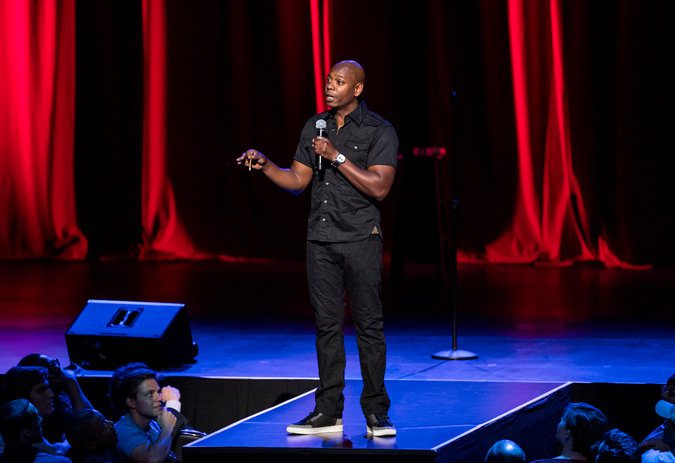 Photo Credit: Kevin Mazur/WireImage
Last month, Dave Chappelle returned to the stage after a seven-year hiatus to complete a 10-day, sold out run at Radio City Music Hall in New York. Here are five takeaways that are applicable to business:
1) Be Authentic –Dave Chappelle had noticeably bulked up from his usual, wiry frame, but he was still 'that guy' who has made us laugh with his keen observations of life's occurrences. Generally private about his family, he peppered his set with jokes about his wife and kids, which is reflective of his comfort levels today. Stay true to yourself and your craft.
2) Listen to your Audience—Initially, Chappelle started out with five shows, but when tickets sold out within minutes, he added five more dates, and some shows would be accompanied by musical guests we know he loves including: Nas, The Roots, Erykah Badu, Janelle Monae and others. Kanye West made a surprise appearance one evening, and in all, sixty-thousand tickets were sold. This goes back to basic elements of supply and demand—when you know and listen to your audience, you can give them what they want, and everyone benefits.
3) Keep it Fresh—If you work on campaigns or issue areas that coincide with a holiday or annual observance, you are constantly charged with sprucing up and repackaging a familiar storyline to make it stand out from the rest. This takes creativity, research and a knack for good storytelling. It's quite refreshing (and funny) to see comedians dissect situations, often making absurd connections that are generally reserved for children. Comedians are brutally honest and are gifted at making mundane, universal happenings memorable. When approaching your next creative challenge at work, try to embody a child-like curiosity to see how your thoughts shift.
4) Be Memorable— Whether connecting consumers with your brand through face-to-face events, live streamed events or a product, experience is everything. From the moment a consumer interacts with your brand, a series of emotions will occur over the lifecycle that make one's experience positive or negative. Dave Chappelle aced this by being authentic, delivering an amazing show chock-full of opening acts, musical acts, an hour-long set, and to seal the deal, everyone in attendance received a custom Dave Chappelle T-shirt that stated, "I was there." Many attendees put their shirts on before exiting the Hall, and could be seen posing for pictures in the street after the show. Hone in on what elements will create personal and relevant memories for your audience to deliver maximum impact.
5) Timing is Everything—With regards to comedic timing, this speaks for itself! A well delivered joke will have the crowd erupting in laughter, while an ill-timed joke will leave the audience gazing back like one, large beast. While we can't ignore luck, in business, be conscious of your timing when following up with contacts, reaching out to the media and seeking your next opportunity or partnership.
Which takeaway resonates with you?